This was definitely one of the highlights of 2017. Lucia's music is very rich and original by default, but the cast of collaborators on the Speak Low Renditions did things to her compositions that are plain hard to put into words. Lucia made it a point to enlist some of the most uncompromising and unique players and producers on the scene, and basically let them take her record apart and reassemble it as they saw it fit. The features on the release included the likes of Julian Sartorius (one of my favorite new school drummers) and Dan Nicholls of the Loop Collective, who's made some great music with the likes of Squarepusher and Matthew Herbert. Frans Petter, who plays with Jameszoo (and is also a part of Lucia's trio) contributed his production work to the record as well. Colin Vallon, who did some great work for ECM is on here too, alongside the extremely talented Joy Frempong, Evelinn Trouble, Marc Lohr, Trummerschlunk, Mark Neyen and Don Philippe. I wish I had more time to write about everyone on here individually, sorry.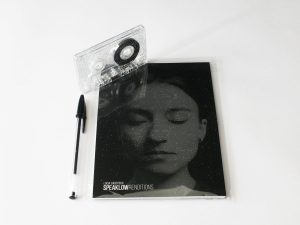 My job on this one was to basically extend the coverage for the project from the Jazz media ghetto, strictly, to the more "cross over" platforms and the electronica niche specifically. The results were quite impressive: Freunde Von Freunden, Lodown Magazine, 11plus3, Music Map, Nowa Muzyka, Tsinoshi Bar, The Monitors, Fame Magazine, Colorising, Dear Velvet, Indie Music Review, The Record Stache, Ask Helmut, Brooklyn Radio.
I am also proud to say that I suggested that the record should come out as a limited edition cassette and helped Lucia create a good track flow. The original LP was two songs longer and played more like a compilation. What we achieved a cassette track flow made the whole thing more of a cohesive concept record.